Ryotaro Banno a.k.a. Ushitora Anqou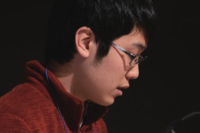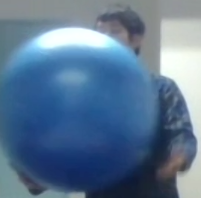 He is a software engineer working for Cybozu, Inc. in Tokyo, Japan. He received his B.Eng. and M.C.S. from Kyoto University in 2021, 2023, respectively. His current interest includes formal verification, runtime verification, and homomorphic encryption.
In The MITOU Program in fiscal year 2019, held by Information-technology Promotion Agency, Japan, he and his co-workers proposed and implemented Virtual Secure Platform, which allows one to execute encrypted C programs without decryption via fully homomorphic encryption. By his contribution, he was awarded as a "super creator," or an expert engineer, of The MITOU Program.
Publications (Refereed papers)
Ryotaro Banno, Kotaro Matsuoka, Naoki Matsumoto, Song Bian, Masaki Waga, & Kohei Suenaga. (2022). Oblivious Online Monitoring for Safety LTL Specification via Fully Homomorphic Encryption.
Kotaro Matsuoka, Ryotaro Banno, Naoki Matsumoto, Takashi Sato, & Song Bian. (2020). Virtual Secure Platform: A Five-Stage Pipeline Processor over TFHE.
What I've coded
Find me on GitHub.
Some of my projects:
PGP public key (since 2022-Oct-29)
Fingerprint: 6171 FA67 6132 7DD8 A9A5 D169 66E8 B2EB 7DC5 209A
-----BEGIN PGP PUBLIC KEY BLOCK-----

mDMEY1zE3hYJKwYBBAHaRw8BAQdAy9OrUlyFo0FuVlIwy3hGoPueHAFmHkfuE560
R8AK1DK0I1VzaGl0b3JhIEFucW91IDx1c2hpdG9yYUBhbnFvdS5uZXQ+iJEEExYK
ADkCGwEECwkIBwQVCgkIBRYCAwEAAh4BAheAFiEEYXH6Z2EyfdippdFpZuiy633F
IJoFAmNcxbQCGQEACgkQZuiy633FIJo6YwEAuhlCJcbN121745H1zAGDa1WJ+cWm
fSk81/ytT1GYZbMBAKiVQk106hoY9r5BYjruXoLFuyhjezXHBU9ryLxnaYwEiQEz
BBABCgAdFiEE9GLR6lKM0yttFlItz9u34GCSTpYFAmNcxRAACgkQz9u34GCSTpYk
Wgf+KOERABGk/H1kHUVCgOw+9PzBT1n/1CR5cAkbRI6Hwp3QVFfMvJa9BYWQk4OY
toKkGq+vv0R4+KmqNwwLtbmDtIbnyOrfD5ZkFtFy1B2HlYte1UgzBSWdGF94deme
qCCPjpkPBczTKZb3SurtmqwKuKJmXBRIcjxH/q+xh6bjsxuiBu/zZYuGMV0xwwnd
j3njTb7Cc0DXTtxo4sQ6DFXblDzh0hn8eCjUb2+3tva2sZXv5XadU4jKUQhNHd7T
J40PLIx/X53MMx7SJl+T2IkSKiIk+4ODKqzx8ZA+6kVHZEakNiJMnzc4ZoIMr1oe
rKVXvvu8xK0lhrvAjnKTXBmXH7QaUnlvdGFybyBCYW5ubyA8ckBiYW5uLm9vbz6I
jgQTFgoANhYhBGFx+mdhMn3YqaXRaWbosut9xSCaBQJjXMWgAhsBBAsJCAcEFQoJ
CAUWAgMBAAIeAQIXgAAKCRBm6LLrfcUgmn57AP49yGDDh5ZFsgYa9wTlXcJJwQHb
yemYN1NFYApdgAo5fAD+PRWyJNRgU1ASm6fSrJh4EEO0CX8f/k5VyHGEw7oBVQO4
MwRjXMVlFgkrBgEEAdpHDwEBB0Bkcil8Ch/kdl3A4ROP95QqdKCLeT286ghyBJaD
EBrupYj1BBgWCgAmFiEEYXH6Z2EyfdippdFpZuiy633FIJoFAmNcxWUCGwIFCQPC
ZwAAgQkQZuiy633FIJp2IAQZFgoAHRYhBB/KSQ+NcKJiBDGi03mUupY7B7MeBQJj
XMVlAAoJEHmUupY7B7MeJI0A/RVZtP6QzCDuqniQKVSWz8jn8fz1RYigZOayIUAL
HNxVAP0Q1/pczel9vNS0drMcetymiCDbYsiM3relE5poMhRKCahGAQCQx9EosPPR
ymIB3v/85HAs9QS6C0jf+MpJJzEPnAeVZwD8DCLTx9JGQFX3M4HCzP7VINzysCNK
tjYCs+6O3aAA+gC4OARjXMVxEgorBgEEAZdVAQUBAQdA0yu7hyTN6Ll4P+ly2Zzl
0ICU2EzkODzeMkLxqlHCmVwDAQgHiH4EGBYKACYWIQRhcfpnYTJ92Kml0Wlm6LLr
fcUgmgUCY1zFcQIbDAUJA8JnAAAKCRBm6LLrfcUgmqaZAQCDS2TDl+gfNQU4RQdu
X7NnHHYieWhlFzfPMYGr6E1//QD/e1M3TdkpjUCV82EHRtGZ4rJ5vTaa+CERMVRL
eMpK1Ai4MwRjXMV6FgkrBgEEAdpHDwEBB0AVgQA7lmNIwRmcjujAapZdqpceiTsM
3vwTdCh1ocDKAIh+BBgWCgAmFiEEYXH6Z2EyfdippdFpZuiy633FIJoFAmNcxXoC
GyAFCQPCZwAACgkQZuiy633FIJq1+QD/Z3UnpwuuS+Y3bXwwyauOav/JJh6zrdwi
Npkk8o/wEEcBAP8G4+8Kv+fP5Td/Ua9wqELjUDsjH+b0zufmTpT4o8sO
=vIRU
-----END PGP PUBLIC KEY BLOCK-----
PGP public key (until 2022-Oct-29)
Fingerprint: F462D1EA528CD32B6D16522DCFDBB7E060924E96
-----BEGIN PGP PUBLIC KEY BLOCK-----

mQENBFyLqXIBCACmyadJsK/4oIaaBYw7N/MbkSK4rVXdQ9zVbg42nA/l9v28PDzD
fZkBAYZj7GWTuJshLNQf5G+LdxFeVAWrF0OyBdq5jVK8690Df1VO5GIu2IZxlDJh
U4pWbYo+eA+fhtGwhX1Dfm42KT3RA/4SxyTgrhoId2jqj01ZiQo1OxCK2q8WU4Mz
BJrHvIdWsVUgTvU2gqMXYrwaKn5cFqYp9Nm4ZnWqRFkg4E/bEwB4UXL4Un1AIRJX
Tg/gV6FaWKoVRCR2PpO6o/za/Cr8+pLB0QBSsNqQ7EURlZp5y7F+gd+xFnWtHc1a
9fUkyQswrt9iOnjlVNPZpfOrPx+RRCckAzp5ABEBAAGJATYEIAEKACAWIQT0YtHq
UozTK20WUi3P27fgYJJOlgUCY1y2uwIdAQAKCRDP27fgYJJOlr6OCACdxIA+62iW
TBuukyFfKF8GHc2AVVA0f51x7S+zQSmwMJnnKOAsdbuBTtr1hRbvfn8/UyioEpfe
NgQiNZnlIRbArKObYlE20D9utNhW+LxYftcY7YR0vfBgXo8DB1xWRUvvV4qpMI+U
uhjqfsciPioDD5CkevwBJBsAUuPVGQ5rlR/T8Ygw7VX/UDk9McFu/6xe3D9lg5bK
HmWbAVlFI/cjPx3UtorTl1v+5X8Ggv2LrMW8VeVvQTqkuLJ9qNUFVvFnhqrddRYE
x6e6rnOC/TzSCdG/bke5tjW0Zj1PiuOxe0z/v2uFVtYAwo4OcPZFfu8XJp63hG8K
ZhhNOVg8o1kStCNVc2hpdG9yYSBBbnFvdSA8dXNoaXRvcmFAYW5xb3UubmV0PokB
TgQTAQgAOBYhBPRi0epSjNMrbRZSLc/bt+Bgkk6WBQJci6lyAhsDBQsJCAcCBhUK
CQgLAgQWAgMBAh4BAheAAAoJEM/bt+Bgkk6WgkIH/37AIFEnqaxgi4eI4EfH7IW8
tXRPBWz/l3S/rsKfiXScu91RCJDsq6rshQeQdqXebewt4xu/xLek2nN5uAHIvStp
aSO5E3Gq8fnC3MrpgY3dYTcazOKYBK63W0uISd2nrSXKM4MparnAO7vNDLtMvZW1
O/2noXAdqgw7SAb6FUOqtxA5jAa1D0xwurStzJN2jkIfLCXpzMdLIjqpl1dtL/9v
wN/YbVW60dxjbh9op/gB10yVcv2gAnOJag6v+mfZMQ1zqqTnhfeOpH1musF2NMNa
TJRX+YEWEU2Ot83ccvEAvbaW2WD4RLw+xa8S63T0DhP+CMPnshbpscVoKdKmTg+I
dQQQFgoAHRYhBGFx+mdhMn3YqaXRaWbosut9xSCaBQJjXMUDAAoJEGbosut9xSCa
0RoA/AhTPZBnIsLleUZUH8uu4DA+CNyQm9arvzBkillsxQfcAP9kVo2d1eTuOPJu
LRU5ESiCSOXx/w9GxSHJFhdWiaqECrkBDQRci7BnAQgAsehVxlIbkpPjgEEU9NNR
69GN/byFbEyc1hshGO5gLl2/YA0JQN0EkZddIAesegZ/ubgtAyMoeaXtm6GXafoz
7mZ/q191If1fPyeDABocCKfa+kowj/3HJQR3smkfLfw2Glt14ryCvX1w/7Hzj2Tg
F/B3uvn8kfy3WLC0aZT3+xq3JtFuwbGzcZ08+q0L+0IFF18Ro7rfHNxyNIrmV+Xk
nLcqWXtBQ1f3WwCaK39PdfBrMk2kQpB1xRVp5Nu5hcWWAxNhPcTlg3JHTzCotb/j
hxbBxEBIGv+1KWUikEYVpkfKDSS+Jtfr48o05l33OItQ9ysJHT3+YXKsespTb5Ym
tQARAQABiQJyBBgBCAAmAhsuFiEE9GLR6lKM0yttFlItz9u34GCSTpYFAmBNxdYF
CQeEfG8BQMB0IAQZAQgAHRYhBN9T9duMLMKBstNBttZGXWoeA4ZsBQJci7BnAAoJ
ENZGXWoeA4Zs9ekH/0caFXdfEuhVRCE5bvCVGson1VXyFm0Z60MrW9vLFgRBak+5
R6FmDcVBf8NN/mLzU8VCcpZhNV1LIpB500T/lwa1dIrk81f5qCb/rXr3zciBZOiZ
xI87z2cHr3M5FLz3jE+UJtwPNaexUvRGGNT11dQOBnKOIWA+duRNhbK0VToevCvQ
Z/gVRfWe1hJyANTF1dpeehhffjFTWYoB+RiUkHC42ScD2vA240uro9nkEs2bLRaI
D8XWlnbIkPVAK/h4P0QhvhG/9tI6RjtrDGpPz2xd06LGdDVJIjdznYBfX3cCCsB1
eVY/Rv9u23qX5tRnHdM6iVSPi7p9d2wvpAdXeMAJEM/bt+Bgkk6WitwH/2wPJ9Yf
ZtLZgAEwJrcwg7kUX4AX8FcgqlA9aHWrBFsQv+mYIiaO2aQrVuNm9+U8mZ6tLYDY
md6AJD8Soq5xybVMDE5mnUOAMdSwaHyje3DyaSsvP8MUVHHiq0MIYDgoGt+HTaZH
20uL3SXjtz3YagLJyBHaHV0RerlNa6D/g/ORA+xXO6HNcg9VESjYiZuAReL9WxkI
S5ac8UcoueYe8deSTkve9H3H60hZRayZzsK3TvWGdOmiwlkcwtXSbvf353LwUmUY
E3RrmCZkRZa2K3BlROJ+t7MTAz9WhUUkMtUx4LlgC1zwPHfQbRA0abek3OGfQzfh
/VO5KIGICHYZnPg=
=KDg1
-----END PGP PUBLIC KEY BLOCK-----